BOAT FISHING




INTRODUCTION
There can be nothing more satisfying (well nearly nothing!) than combining your fishing adventure with a boating expedition. Thankfully, many reservoirs and lakes now offer boat hire as a part of their trout fishing package. My advice is - if you can afford it, take the boat option every time. It can be so frustrating standing on the shore watching the boat anglers haul in the fish while your bag remains empty. It rarely works the other way around, where the shore fishermen get all the sport.

If you have never been boat fishing before, it is wise to go out with someone knowledgeable the first few times, to get acquainted with the boating experience. You will soon build up a mental list of do's and don'ts for boat fishing. Do keep your eye on the weather and make sure you have enough time to get back to the jetty if a storm appears. Do be courteous to other boat users. Don't fool about in the boat. Don't get too close to shore.
On arrival at the jetty the very first thing you should do is put on the floatation device that you will be supplied with. The wearing of these is now mandatory in virtually every country. They are not designer wear and optional. They are essential wear and life saving.
Give your boat a quick look over for any damage that may previously have gone unnoticed by the staff. Make sure it has all the equipment that it should have - look at the other boats to see what bits and pieces they have. Even if your boat has an outboard you should still be supplied with a set of oars. It should also have a fuel container - with some fuel in it! Check that the engine is fully fuelled - most have a cap on the top of the engine that you can unscrew and peek inside. Finding you are out of fuel at the other end of the lake and having to row back is no fun. I know - it happened to me in a thunderstorm which made it potentially life threatening when I had to row the entire length of the lake with lightning bolts for company!.
This idea of checking everything before you leave can save your life - literally. I once spent a week at a fly in fishing camp in Northern Canada. It wasn't until I arrived that I found out that everyone else there - staff and clients - were all German and I don't speak German. Now I have nothing against Germans, or any other nationality for that matter. Each morning over breakfast someone would stand up and talk German for a few minutes and I was told in broken English not to worry, this was just an itinerary and that I should just tag along each day.
One fine morning we all trooped out to our individual boats and off we went up a fjord to fish the day away. No-one had told me that we had to refuel at a barge located up a tributary. Needless to say, my boat ran out of fuel on the way back to the lodge and I spent several very uncomfortable hours drifting out to sea before they realised that "Zee Eenglishman" was not at dinner and a search and rescue party found me! Whose fault? Theirs for not taking care of their customer? Or mine for not asking? It doesn't matter - just make sure you know everything you need to know to keep yourself safe and that means asking even if the answer seems obvious.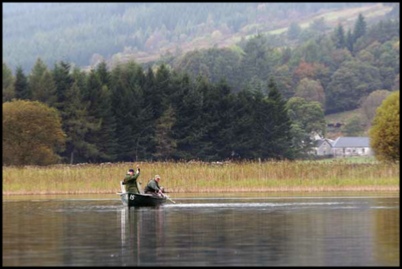 An anchor is required with a good length of chain and rope sufficient for the deepest part of the water you are fishing - make sure the rope is untangled and ready for use. Getting your boat into the perfect fishing spot and then having to clatter around for ten minutes while you untangle the anchor rope is no fun. And it won't be the perfect fishing spot after you've made all that noise! Finally there should be an emergency communication device - usually a flare in a sealed container or an air horn. Please remember that this piece of equipment is for emergency use only. It could save your life - but not if someone has discharged it without telling anyone in authority.
Make sure you have the telephone number of the fishing lodge in your mobile phone if you are in a reception area. Sometimes it can be the quickest way of alerting the staff that you have a problem. While you are out on the water it should be your duty to come to the aid of anyone else you see experiencing problems - you'd want them to help you if the roles were reversed. Your mobile phone could be the only way of advising that another boat is in difficulties. I've lost count of the number of boats I stopped at to help them get their engine running because inexperience had caused them to flood the motor, or the propeller pin had sheared, or they had got their fly line wrapped round the propeller, etc, etc. But only offer assistance if you are not putting yourself in harm's way as well. Better to go for help than end up with two boat casualties! The recognised way of a boat signalling that it needs help is to raise an oar vertically in the air, so just keep an eye on those boats around you.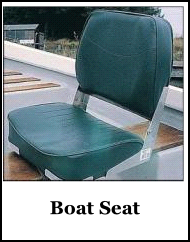 You will need something to sit on. Most venues will provide a board that sits across the boat from thwart to thwart (side to side). You then sit astride this board and fish from the side of the boat. If you intend to fish more than a few times you will want to invest in your own seat. These are usually made of aluminium with a padded swivelling chair. Most are retractable so that they will fit in your car. They also have a tray for holding the line and other items you may need to hand. With this method of fishing you anchor at one side of the boat and fish from the other - more about this later. The final piece of equipment to have on board is a bailer to remove the water that will find its way into the boat.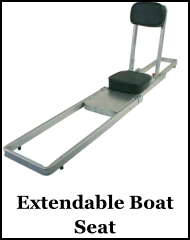 You should receive instruction on how to start the engine - and stop it. If you are not sure on any point ask the ranger or another boater. Most people will be more than happy to help you - it's a matter of safety to make sure you are properly informed before leaving the jetty. Don't roar off at top speed. It may exhilarate you but it won't win you any friends among the other boaters. The wash that a boat creates even at modest speed is enough to rock another boat quite severely. If another boater is taken unaware while moving about he could end up going over the side.
This point about being aware of the wake your boat creates is equally important when passing other boats out on the water. It always amazes me how many boats go whizzing past boats at anchor without any concern for the disruption that their noise and wake causes to other anglers. It is only common courtesy to slow down and go past quietly, leaving as wide a berth as possible. A wide berth means leaving enough room for the other angler to be able to back cast without hitting your boat - or you! That also means passing behind the other boat - how would you like someone cutting across your fishing line?
Here are two great videos put together by Anglian Water - one of the water utility companies in Great Britain - that uses its reservoirs for fly fishing. All the safety items I have mentioned are here for you.

Always move about your boat in a careful and slow manner, especially if you have someone else in the boat with you. Your actions will directly affect them and you should warn them before making any substantial movements. Hold on to a part of the boat as you move to aid your balance. Remember that inconsiderate boater whose wake may hit your boat just when you least expect it! That hand hold could be the only thing that stops you going over the side.

Here's a nice video from New Zealander Gary Lyttle giving us his experience of fly-fishing from his boat.

While fishing in Alaska once, I was taken by the totally calm water and lack of another soul to disturb me. It doesn't come much more peaceful than that wonderful morning. No need to worry about holding on to the boat you might think. Not a bit of it! Just as I was standing to make an adjustment to my fishing rod, the boat was suddenly and mysteriously rocked from side to side. That hand hold stopped me going overboard. The cause of the disturbance? A forty foot whale had surfaced right next to the boat to say hello! As it stared at me with a black eye the size of a dinner plate my eloquent comment to the whale was "What the **** are you doing frightening me like that?". I think it must have taken offence, because it slipped back into the depths again! You might not meet a whale where you fish, but you should learn to expect the unexpected and hang on to the side of the boat when standing or moving about.
While we're on the subject of adjusting your fishing rod, you should thread your fly line through each section of the rod before you assemble the rod. That way you can lay the sections of rod out and prepare the line without once having to stand up. This way is so much easier than what most people attempt - standing and reaching to thread the line through an already assembled fishing rod. Many fishermen will put all their gear together while still in the car park. That always bemuses me. How do they know in advance exactly what line and leader they are going to need without first going onto the water to determine the fishing conditions?
And keep a tidy boat - you should find a place for everything so it doesn't snag your line as you play that fish of a lifetime. Here's a video that reinforces this idea.

Different venues have different rules about who has the right of way on the water. Common sense would dictate that the anchored boat takes precedence over the boat under power. But not always. There is one venue that I came across where the water was shared with a sailing club. Normally this would not present a problem, common courtesies being observed by all. However, on this particular water it transpired that the sailing club had obtained the head lease on the water and had passed a bye law giving all sail boats right of way. Some of its members perversely enjoyed wielding this power!
Imagine my surprise when, on an otherwise calm and peaceful Sunday afternoon, my boat was besieged by a flotilla of sailboats involved in a race. Some of them screamed abuse at me for being in their way - despite the fact that I was clearly at anchor. Inevitably, one of the competitors took it upon himself to sail as close as possible and neatly sliced my fly line in two. Upon my return to the jetty I was berated for being in the way of the race, even though no-one had told me of this eventuality at the time I had hired the boat. It was my first visit to that venue. Needless to say - it was also my last!